In Taranaki we have such beautiful gardens and parks, perfect for stunning location settings. Ekaterina booked her daughters, Natalia, 10 and Eve, 7  in for our Sister Sessions and chose Brooklands and the Chinese Gardens as their location. They dressed up in the Doll Cake Dresses which are exclusive to our studio.
The girls looked stunning in the dresses and accessories, they told me they felt like princesses in them. We started photographing by the Gables in the late evening light and then ended up in the Chinese Garden where we found a bush of red and some soft pink roses for our backdrop scenes. Later we added flower crowns made by Hayley Duggan to the Session  (they are my favourite props which I use  a lot). 
A honey bee thought the flower crowns were irresistible and chased the girls around and around trying to land in the flowers, causing chaos and panic. Unfortunately a honey bee was harmed in the making of these images. 
The results were stunning, the two sisters standing by the pink rose bushes was my absolute favourite,  which was then taken through a Creative Art Process. I loved the soulful looks on their faces and the freckles on their noses, I really wanted to highlight them and make them a feature. For the background I recreated some areas from the left and added it to the right to give it balance. They both have such beautiful eyes and I wanted to emphasize them, to make them stand out, so all you do is go straight to their eyes, they really are the window to their souls.
Dressing up, it's such a girly thing to do and we all loved the process and the results.  If this is something you would like to do go to the contact page and express your interest, I would love to create a unique creative art piece for your wall too.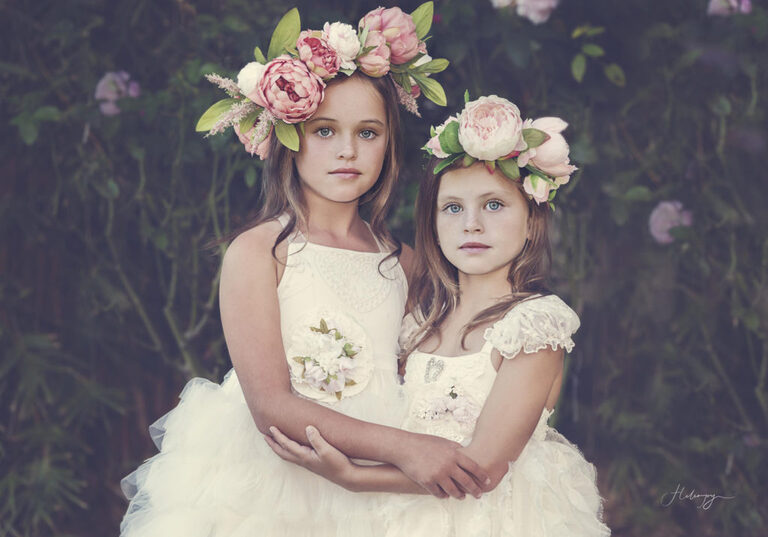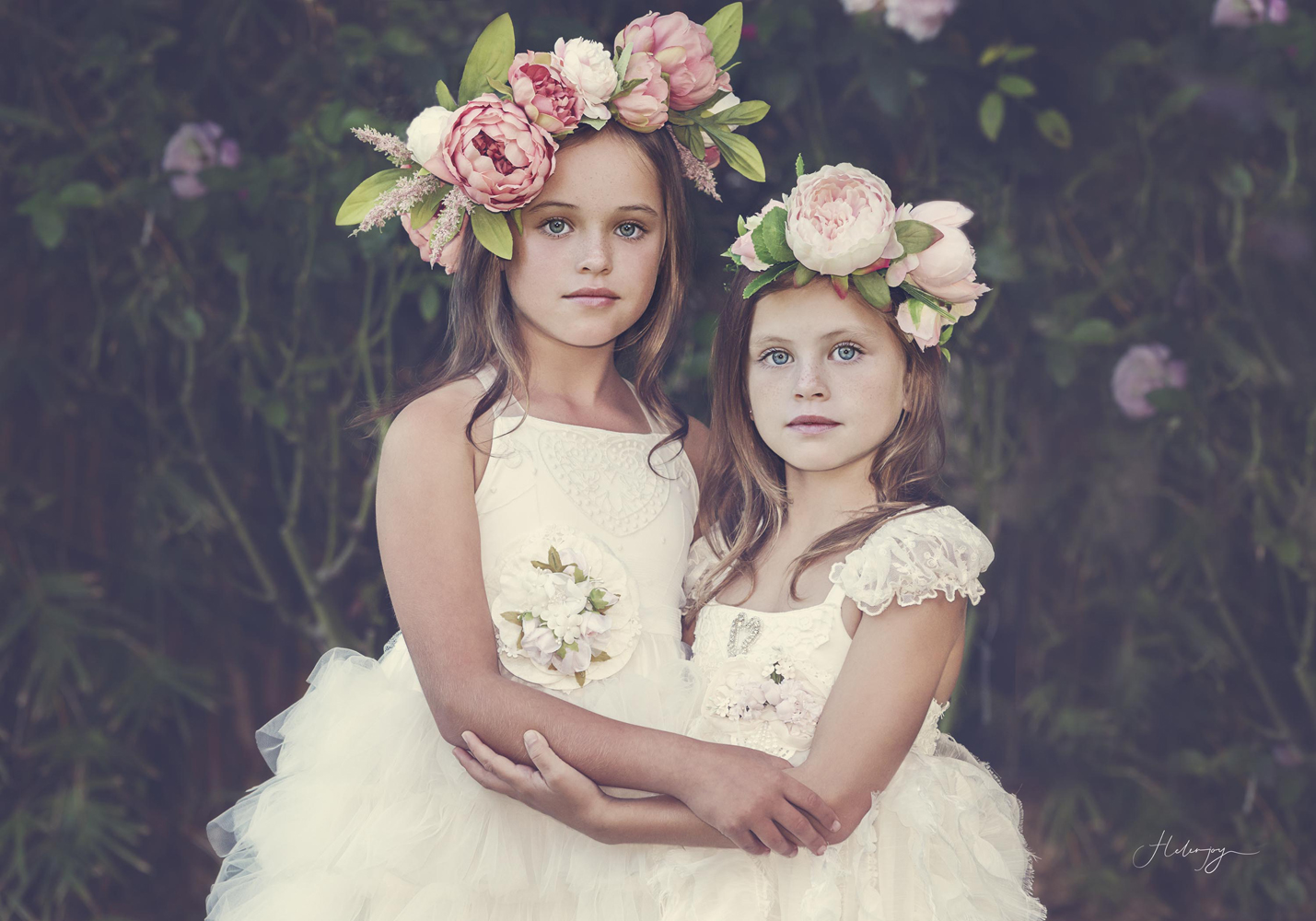 Client love ….. "Helen, I can't thank you enough for the beautiful photos you have taken of my daughters. You went far and beyond to capture special memories for my family that will be treasured forever. Your work is absolutely amazing I highly recommend Helento anyone who would like professional photos taken". Ekaterina Burling
First image has gone through a Creative Art Process, the others are straight from camera with a non creative edit.
My style of photography is creative, unique and artful. The Sister Sessions focuses on capturing the loving bond between the sisters in a creative, unique and elegant way. The result… beautiful and timeless portraiture.  Sister  sessions can be taken at any time and any location that suits this style. For location sessions evening light is always the best as it is soft and makes beautiful images that go beyond the ordinary.
I invite you to come and experience a photo session with me, it will be fun and I promise you I will take photos of your and your loved ones that you will be proud to hang in your home. My studio is located in Blagdon, New Plymouth, Taranaki.  For more types of  sessions  please visit my Portfolios.  I also specialise in artistic Maternity  and Baby photography in Taranaki.  Please feel free to join my Facebook business page here. If you would like to know how it all works  head over to the 'The Experience' page or if you would like to know about my pricing and products go to the Pricing and Product page. I look forward to hearing from you.